Bike Tours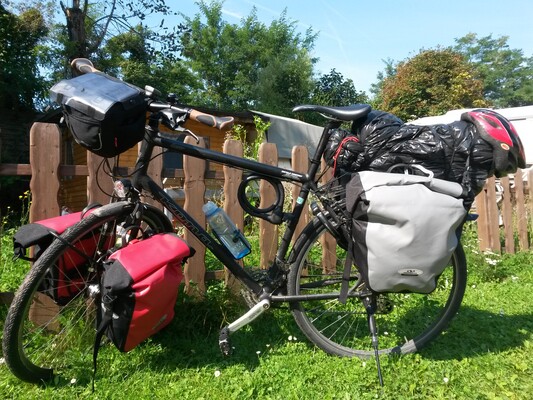 This is my "KONA 2010 Dew" on a tour.
I made a few minor modifications:
Installed a front hub dynamo
Added a connector to switch between lights and charging USB
Front and back rack
New cork grips (handle bar war shortened 4cm on each side)
Added mudguards
KlickFIX handlebar attachement
kickstand
The front rack is not ideal. My bags (Norco Columbia / 15l) does not properly fit the rack. I need to put them on and then slide the lower holding mechanism back, instead of having this part directly in the right place. Also this front rack needs to be mounted with clamps. There is some adapter for V-brakes, but that one is total crap and does not work (at least for my V-brake type). So for my next bike, I probably only buy one that has a front rack included or can be easily added.
Otherwise I really like this bike and hope I can use it a few more years!